About SHEREM
SHEREM is a brand that specializes in garden decoration hummingbird feeders. Our products are made from all natural, eco-friendly materials and are designed to attract hummingbirds.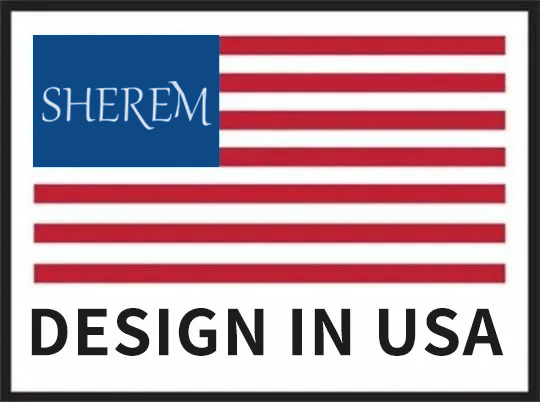 Handmade For The Unparalleled
Every piece of Sherem is individually hand made by glassblowing artisans, giving each feeder its own unique and beautiful pattern – which means you'll have a truly unique piece of art to liven up your backyard.
During the manual blowing of the glass, the air cannot float, thus forming small bubbles. These bubbles represent the life of the glass.
The slight convex vertical line mark left on the glass during the blowing process, as well as the bubbles are proofs of hand-made craftsmanship.
As Beautiful As It Is Functional
Boasting an artistic and functional design, the Sherem Hummingbird Feeder not only makes it easy to attract beautiful hummingbirds, but also offers visually stunning aesthetics. 
The four flower-shaped ports with vibrant red accents will be irresistible to your hummingbird guests as they pass by! A 360-degree perch serves as perfect perches to let them relax.
Free from lead and other toxic substances, it is certified by the EU RoHS to ensure the safety of hummingbirds.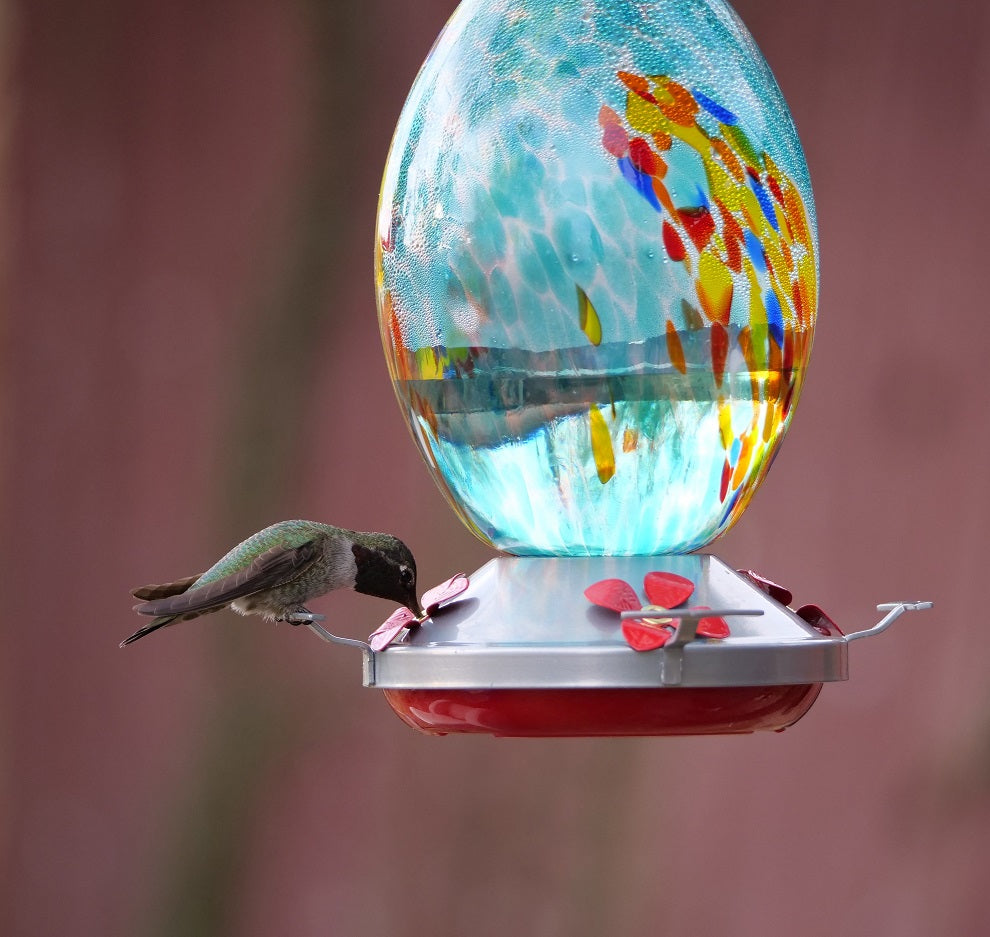 Easy Clean & Refill
The translucent glass bottle and wide mouth of the hummingbird feeder make it easy to see the volume and fill the nectar in a timely and convenient way. The base is tightly sealed with a leak-proof gasket to prevent nectar from leaking out.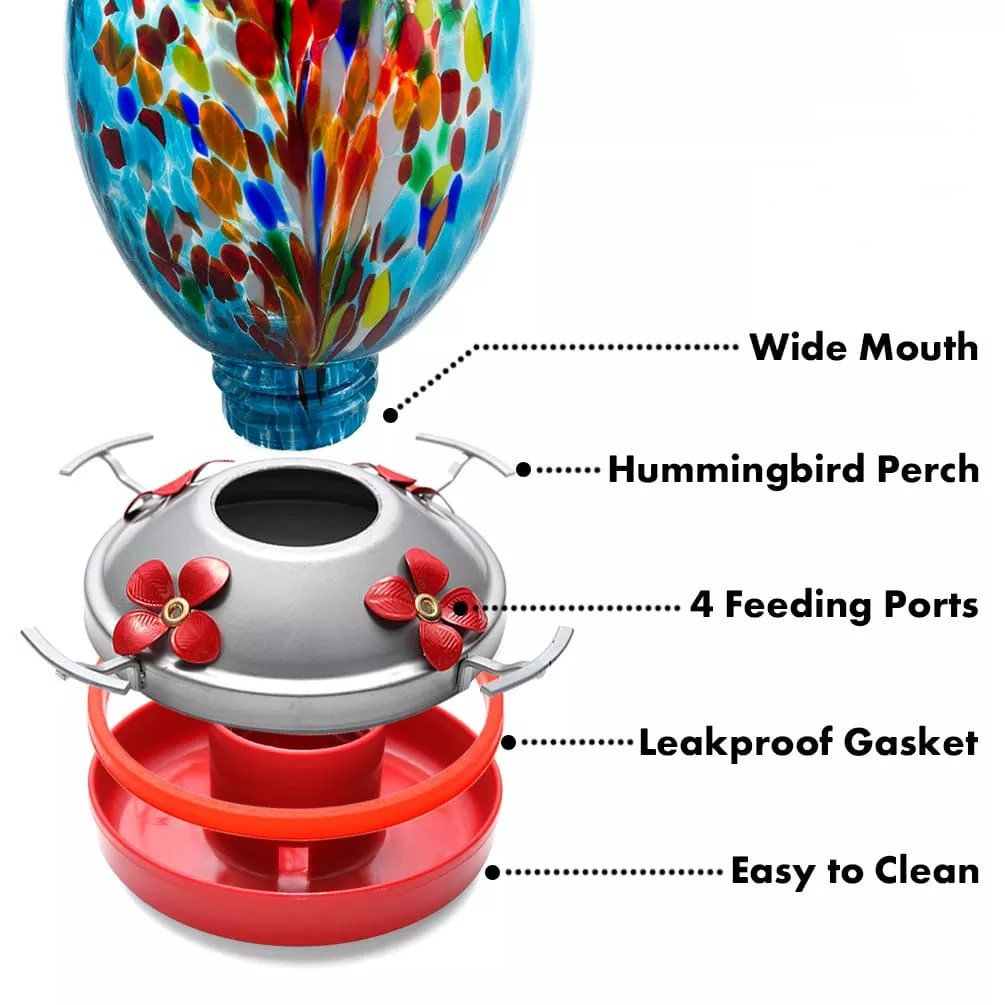 Nectar formula
Mix water and sugar in the ratio of 4:1, boil and wait for it to cool down completely before pouring it into the feeder.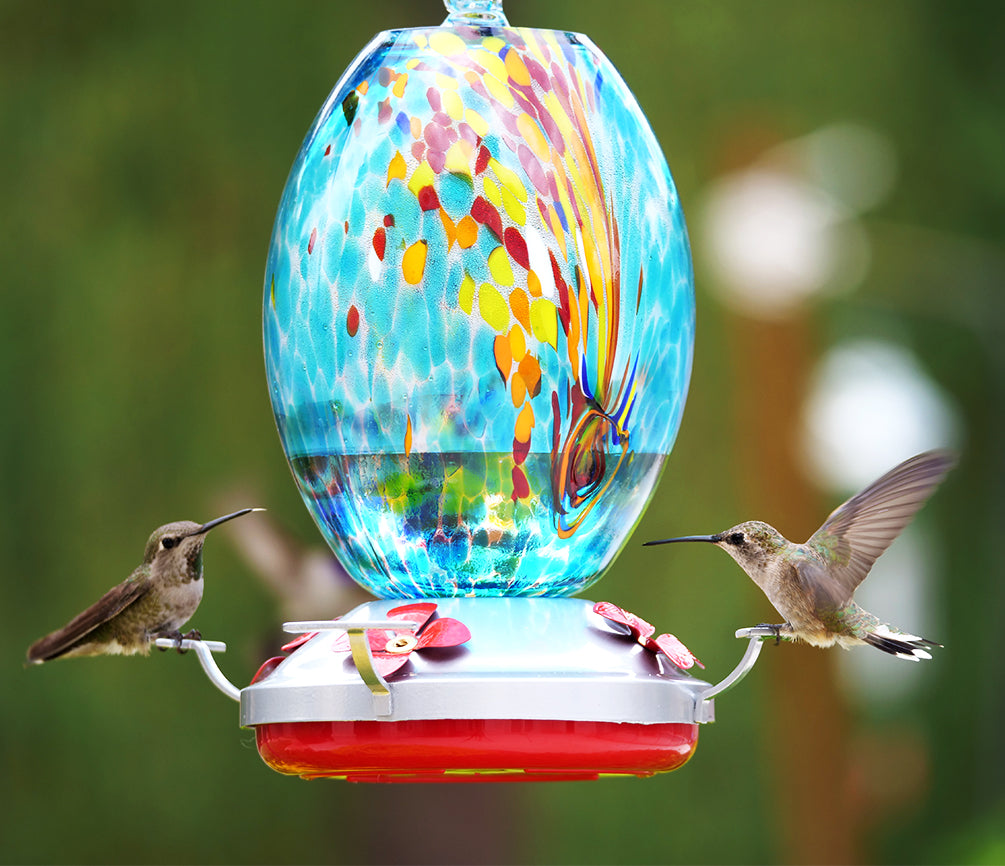 Ideal Gift To Any Nature & Bird Lovers!
If you love the thought of enjoying the view of the most beautiful birds your neighborhood has to offer, this feeder is for you. It will bring beautiful hummingbirds up close for viewing. It also graces your patio, porch and garden.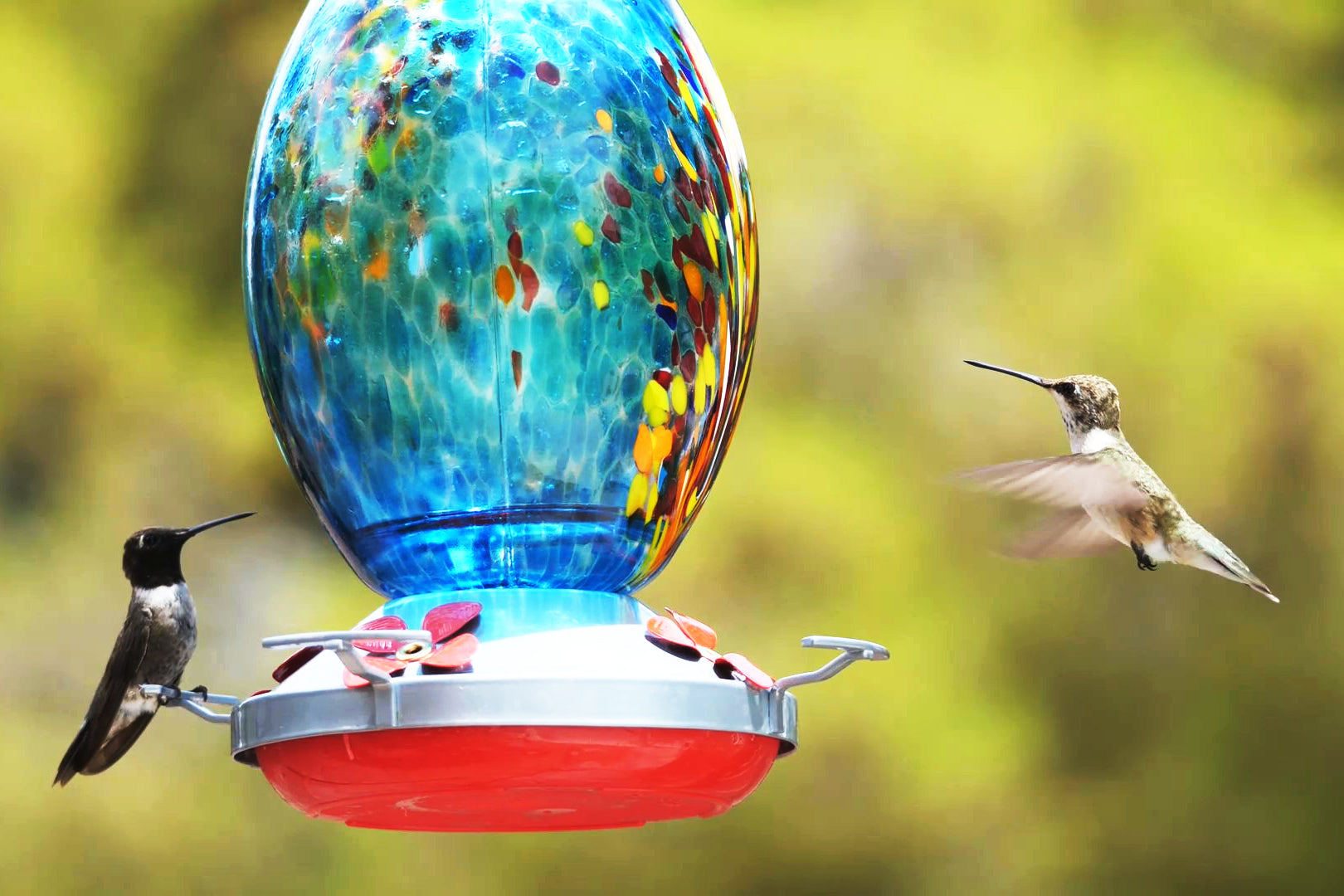 What's In The Box
1 hummingbird feeder (removable glass bottle and base)
1 ant moat, 1 S hook, 1 hemp rope (to hang the bird feeder)
1 brush (to clean the feeding hole)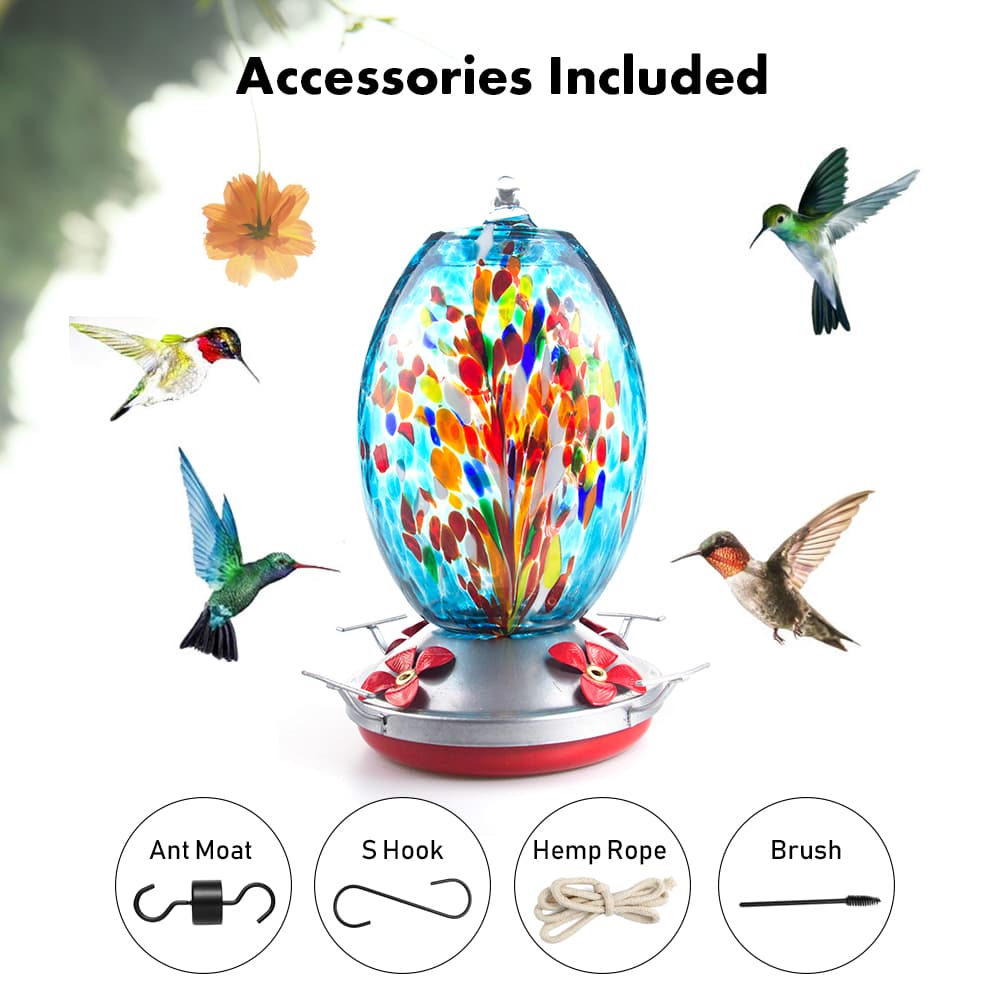 Specification:
Material: Plastic+Glass
Size: 21x11cm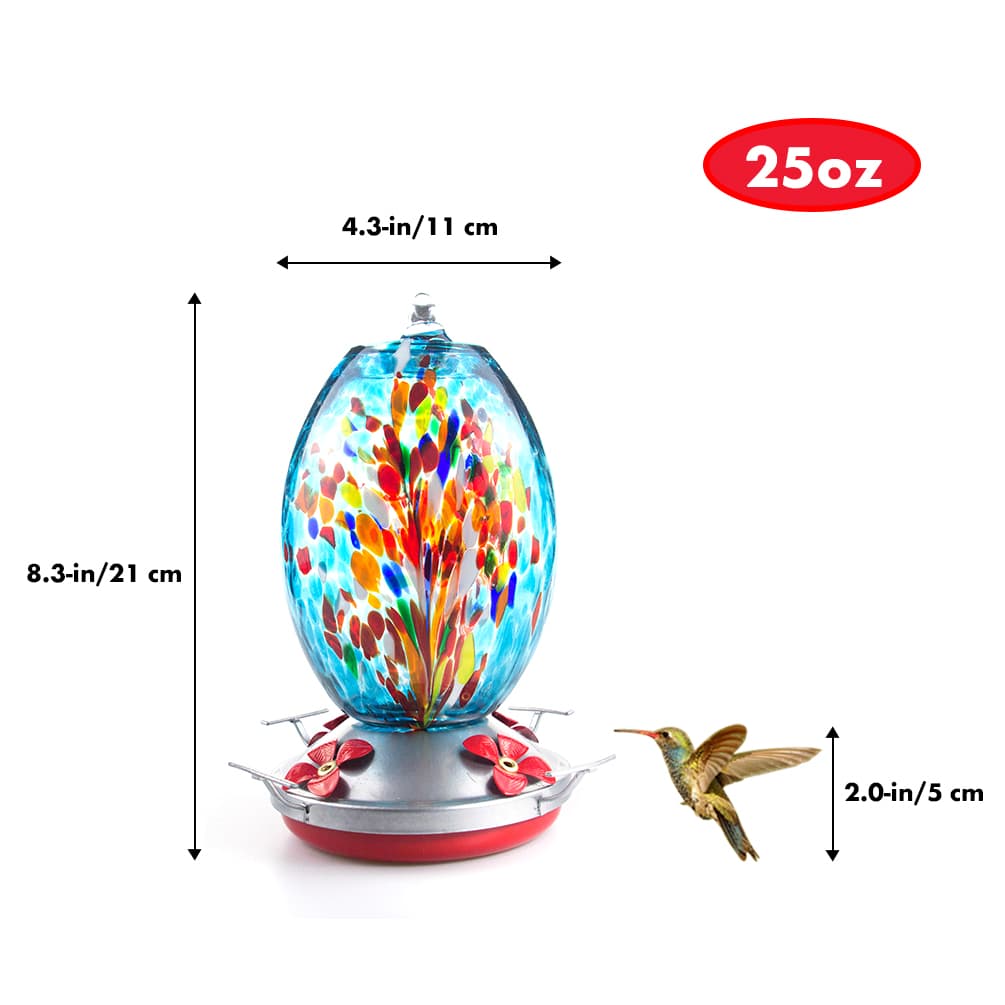 Package Includes: 1x Bird Feeder 2x Hook 1x Rope
Note: Conversion: 1inch=2.54cm, 1cm=0.393inch
Please allow slightly 0-1cm difference due to manual measurement. Colors can appear different depending on light and how the listing is viewed. Thanks for your understanding and attention. Wish you a pleasant shopping experience!